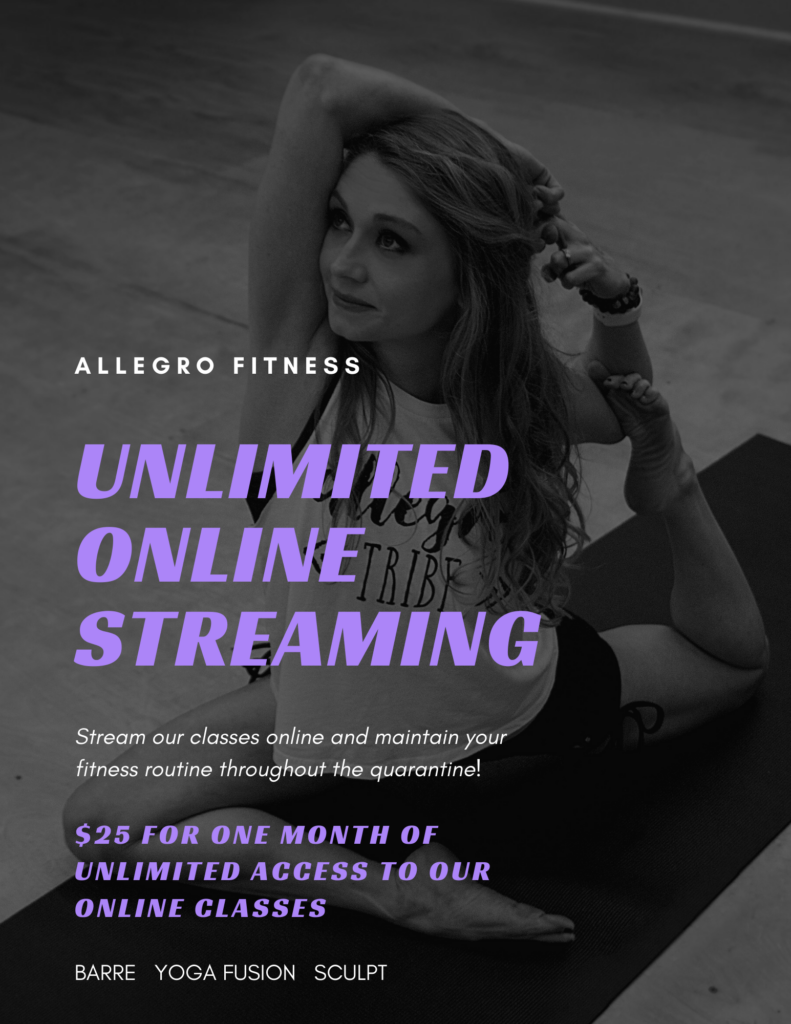 ALLEGRO FITNESS UNLIMITED ONLINE STREAMING
For $25, you get:
1 month of unlimited access to online classes (Barre, Yoga Fusion, & Sculpt)
1 in-studio class as soon as we are able to reopen ($10 value)
25% off one item in the pro-shop
Free equipment rental while supplies last
Don't let social distancing turn you into a couch potato! We are here to help you stay on track with your health and fitness through the COVID-19 crisis.
We appreciate everyone who has joined us for the FREE online workouts over the last two weeks, and we are absolutely blown away by all of the positive feedback we have gotten from you guys! We want to continue to provide you with this service and keep uploading new classes, but as a small business trying to navigate these uncertain times, we need your support.
On Monday, March 30th all of the free classes will be removed from the Allegro Fitness Facebook group and uploaded to a new private group. Only those who have purchased the online streaming package will have access to this group. Your $25 purchase gets you unlimited access to the new group for one month. We will be uploading new classes to the group daily, plus you will still be able to access the two weeks of classes we have already filmed, so you will have plenty of variety in your workouts.
In addition to one month of unlimited online classes, your $25 also gets you 1 in-studio class as soon as we are able to reopen ($10 value), and 25% off one item in the pro-shop. And for anyone who doesn't have equipment at home, we will loan you ours! While supplies last, we have yoga mats, weights, balls, and straps for stretching. We are happy to set up a time for curbside pickup for anyone who needs any of these items. We just ask that you clean them thoroughly before returning them to the studio.
For clients who have existing memberships or packages, we want you to know that these classes will still be available in your account when we are able to reopen the studio. We will extend the expiration date on any existing packages for the amount of time the studio is closed in total.
Click here to get started, and be on the lookout for your invite to join the group!